ABC is a coalition of more than 2,000 national, international, and local charities. Any charity that meets the eligibility standards of the US Government's Combined Federal Campaign may join ABC.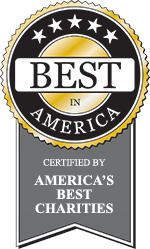 Benefits of being an ABC-certified charity include:
Participation in at-work fund drives reaching more than 10 million employees annually

Workplace campaign marketing and advertising support, such as BestCFC.org.

State registration and licensing services

Low cost payment processing forms - online donations, event registrations, membership dues

License to display the "Best In America" Seal of Excellence
For a complete list of members and member services, visit
www.best-charities.org
.